Have you wondered how much time you have spent mowing your lawn? Isn't it tiring to mow, especially if you have so many other things to do? It's satisfying to see greens in your yard, but if you don't have much time to cut off those tall grasses, try groundcover plants.
What are groundcover plants?
These plants are plants that cover the topsoil. It protects your soil from the heat and drought caused by being soaked under the sun and prevents it from losing topsoil caused by raindrops.
Instead of allowing plain-looking grasses to grow tall, consider planting attractive groundcover plants that grow low so that you won't have to spend most of your time mowing your lawn.
These plants will spread out for perfect topsoil covering and will not grow like the long grass in your garden, most likely to be at the same height as your kids.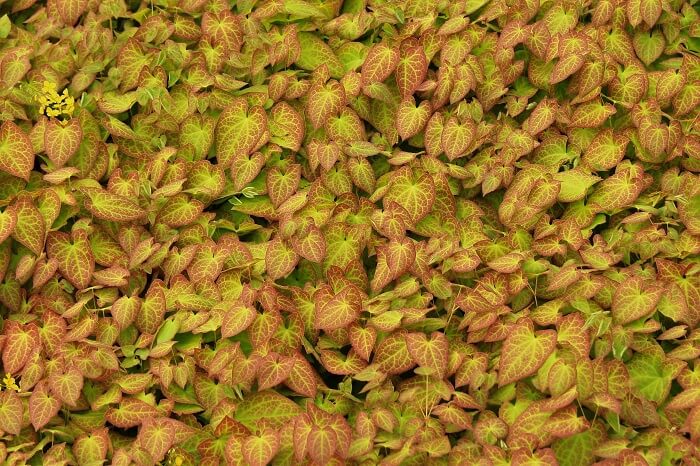 1. Wickwar Flame (Calluna vulgaris)
This little evergreen shrub is low-growing and offers you foliage that comes in different colors like yellow, orange, and red, depending on the season. Its distinct leaves are small and overlapping.
2. Plantain Lily (Hosta 'Francee')
Weeds cannot easily penetrate these groundcover plants. Plantain lilies grow from 0.5″ to 18″ in height. Its green leaves have the color white on their edge, giving it a classy look.
3. Renard Geranium (Geranium Renardii)
Renard Geranium has white heart-shaped petals with violet lines. It reaches from 6-12 inches in height and approximately 15 to 30 cm in its width. This plant is also low maintenance as it tolerates drought and heat.
4. Wall Germander (Teucrium chamaedrys)
This low-growing shrub reaches from 12″-24″ in height or approximately 1 to 2 feet. Deers will not go after this evergreen shrub.
5. Flowering thyme (Thymus spp.)
This thyme will complement well with your lawn and other plants. You won't have to think about mowing groundcover plants as it grows only from 1 to 3 inches in height. You can also try its leaves to add aroma to dishes.
6. Sedum spurium Dragon's Blood (Sedum spurium 'Schorbuser blut')
This succulent reaches 4 to 6 inches long and displays maroon foliage, which becomes green in a warm climate. As summer comes, it will also show off its lovely pink flowers. Remember to not over-water such succulents.
7. Ice Plant (Delosperma cooperi)
Ice plants are suitable for dry soil and sunny areas. If you want to invite butterflies, allow this colorful and attractive plant to lure them. You won't also have to fear deers because it does not attract them. You don't need to mow this ground cover plant as it only grows from 3 to 6 inches tall.
8. Lily of the Valley (Convallaria Majalis)
These lovely but straightforward groundcover plants live for an extended period as well as offer a pleasing scent. For a good start and result, plant lily of the valley at dry conditions. Take a break and look at its green foliage and white bell-shaped flowers.
9. Creeping Phlox (Phlox Stolonifera)
Delightful flowers that look like colorful foliage await you as you plant this creeping phlox. Some call it moss pink due to its compacted blooms that look like its group of leaves. It creeps, so you won't have to worry about covering the space in your soil. Its height reaches from 4 to 6 inches and spreads from 18 to 24 inches. Its flower color ranges from hues such as pink, blue, and white. This groundcover plant is ideal for growing in areas where the sunlight is abundant.
10. Asarabacca (Asarum europaeum)
Violet flowers in spring and evergreen foliage will bring life to your space while doing their purpose as groundcover plants since the maximum height it could reach is 10 cm and spreads from 0.1 to 0.5 m.
11. Oak Fern (Gymnocarpium dryopteris)
These groundcover plants are low-growing and have deciduous foliage. It takes about ten years to achieve its full height, which is 0.1 to 0.5 meters. Part of its nature is to be formed into mat-like foliage.
12. Jack Frost (Brunnera Macrophylla)
You don't have to prune this cool-looking plant, making it ideal as groundcover plants. Its height reaches from 12 to 18 inches tall. Its blue flower and silver with green foliage perfectly suit each other while also being pest and disease-free.
Instead of giving all your efforts in mowing your lawn for a clean-looking yard, it is practical to opt for these low-growing groundcover plants that put more beauty to your home and requires less of your time-consuming mowing.