Do you have a green thumb? If so, you may be interested in growing box woods. Boxwoods are shrubs that make excellent additions to any garden or landscape. They are easy to grow and can thrive in a variety of climates. In this blog post, we will discuss how to plant and care for boxwoods so that you can enjoy their beauty for years to come!
Background Information About Boxwoods
Boxwoods are native to Europe, Asia, and North Africa. They were introduced to the Americas in the 1600s and have been cultivated here ever since. Boxwoods are popular landscape plants because they are easy to care for and can tolerate a wide range of conditions. Boxwoods can be either evergreen or deciduous, meaning that they can retain their leaves year-round or lose them in the fall, depending on the species.
There are many different species of boxwood, but some of the most common include English boxwood (Buxus sempervirens), American boxwood (Buxus AmericanaBux), and Japanese boxwood (us microphylla). Boxwoods range in size from several feet tall to just a few inches. They have small, glossy leaves and produce tiny flowers that bloom in the spring.
Boxwoods are generally low-maintenance shrubs, but they do require some care in order to thrive. Here are a few tips on how to plant and care for boxwoods: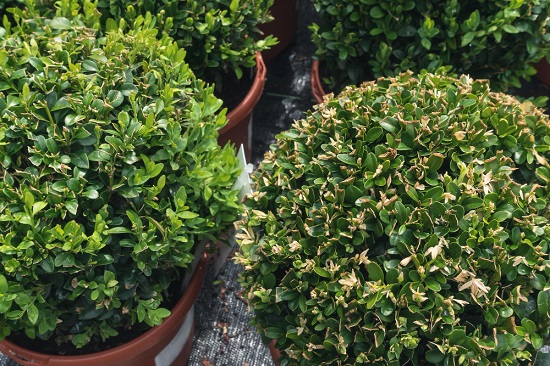 Planting Boxwoods
When planting boxwoods, be sure to choose a location that receives full sun or partial shade. Boxwoods will not do well in areas that are too shady. Prepare the soil by loosening it and adding some organic matter such as compost or manure. This will help the roots to establish themselves more easily.
Dig a hole that is twice as wide as the root ball and just as deep. Carefully remove the plant from its container and place it in the hole. Backfill with soil and water well.
It is best to plant boxwoods in the spring or fall so that they have time to adjust to their new environment before the hot summer months or cold winter weather arrives.
Box Woods Caring Guide:
Soil Requirements:
Box woods prefer well-drained, sandy loam soils but will grow in a variety of soil types as long as the drainage is good. Avoid planting in clay soils that retain water.
Light Exposure:
Boxwoods can tolerate full sun to partial shade. They will grow best in an area that receives morning sun and afternoon shade.
Watering:
Boxwoods should be watered deeply and less frequently to encourage deep root growth. Water once or twice per week during the first growing season to help the roots establish themselves. After that, you can water as needed depending on the weather conditions.
Fertilizing:
Fertilize boxwoods in early spring with a slow-release fertilizer. Be sure to follow the instructions on the package for the best results.
Pruning:
Prune boxwoods in late winter or early spring before new growth begins. Remove any dead, damaged, or diseased branches. You can also trim back overgrown branches to control the shape and size of the shrub.
Common Diseases:
Box woods are susceptible to a variety of diseases, including blight, root rot, and scale. Be sure to check your plants regularly for signs of these diseases so that you can treat them as soon as possible.
What Is Blight?
Blight is a plant disease that can affect many different types of plants, including boxwoods. It is caused by a fungus or bacteria that enters the plant through wounds in the leaves or stem. Once inside, the pathogen begins to multiply, causing the leaves to turn brown and drop off. In severe cases, the entire plant may die.
Blight can be difficult to control once it has started, so it is important to take preventive measures. Be sure to choose disease-resistant varieties of boxwoods and avoid wounding the leaves or stems. If you do notice any signs of blight, remove affected leaves and branches immediately.
Treating Root Rot
Root rot is a common problem in boxwoods. It is caused by a variety of fungi that enter the roots and begin to break them down. This can cause the plant to become waterlogged, yellow, and stunted. In severe cases, the plant may die.
If you think your plant has root rot, it is important to act quickly. Remove the plant from the pot and inspect the roots. If they are brown and mushy, you will need to cut them away. Treat the plant with a fungicide and replant it in fresh soil.
Preventing Scale
Scale is a common pest that can infest boxwoods. These small, hard-bodied insects attach themselves to the leaves and stems of the plant and feed on the sap. This can cause the leaves to turn yellow and drop off. In severe cases, the plant may be stunted or killed.
Scale can be difficult to control once it has infested a plant. The best way to prevent it is to choose varieties that are resistant to scale and to avoid wounding the leaves or stems. If you do notice scale on your plant, you can remove it with a soft brush. You can also treat the plant with an insecticide.
As you can see, there are a few things to consider before planting boxwoods in your garden. But if you follow these tips, you will be sure to have a healthy and thriving shrub. Thanks for reading!
Do you have any tips for growing boxwoods? Let us know! And be sure to check out our other gardening articles for more helpful information. Happy planting!