Fall is a time for pumpkin spice lattes, cozy sweaters, and of course, leaves falling on your lawn. While it's definitely pretty to look at, all those leaves can be a pain to clean up. Not to worry – we're here to help! In this blog post, we will discuss the best ways of fall lawn care. We'll cover everything from leaf removal to fertilizing your grass. So read on for all the information you need to keep your lawn looking beautiful this autumn!
As the leaves begin to fall, you may be wondering what the best way to deal with them is. Should you rake them up? Leave them be? The answer depends on a few factors, such as the type of grass you have and how many leaves are falling. If you have a lot of leaves, it's probably best to rake them up so they don't smother your grass. You can also mulch them with a lawn mower – just be sure to Empty the bag often so the leaves don't get too wet and start to rot inside.
What Are The Benefits of Mulching The Leaves With the Lawn Mower?
Part of good fall lawn care practice would be mulching the leaves on your lawn. Doing so with your lawn mower has a few benefits. First, it's a great way to recycle fallen leaves and turn them into something useful – namely, mulch! This mulch can then be used to fertilize your lawn or garden. Secondly, mulching helps to prevent thatch buildup on your lawn. Thatch is a layer of dead grass, leaves, and other organic matter that can prevent water and nutrients from reaching your grass roots. Too much thatch can also create an ideal environment for pests and diseases to thrive. By mulching the leaves, you'll be able to break down thatch and keep your lawn healthy. Of course, if there are too many leaves, it would be a great idea to collect some of the leaves to compost or use the mulch for other purposes such as in your garden.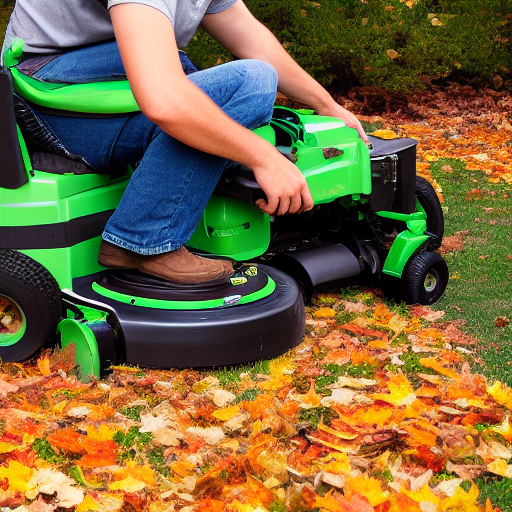 There are great lawn mowers that have a built-in mulching feature which is very convenient. Be sure to get a lawn mower that is the right size for your needs – if you have a small yard, you don't need a huge mower! You should also get a mower with adjustable settings so you can control how finely the leaves are chopped up.
If you have a few leaves here and there, you can probably just leave them be. They'll eventually decompose and add nutrients to your soil. Just be sure to keep an eye on them so they don't start to smother your grass.
Slow Release Granular Lawn Fertilizer – Advanced nutrients, Turf & Lawn Fertilizer
Fertilizing Your Lawn in The Fall
In either case, it's also important to fertilize your lawn in the fall. This will help it recover from all stress it gets during the winter months. Be sure to choose a fertilizer that's specifically designed for fall use (granular or slow release) and follow the instructions carefully.
Other Fall Lawn Care Tips:
Other things you can do to prepare your lawn for the harsh winter months could be aeration and dethatching. Aeration helps to improve drainage and reduce compaction, while dethatching removes thatch buildup. These are both things you can do yourself or hire a professional to do.
By following these tips, you'll be sure to have a beautiful lawn all autumn long! Do you have any other tips for fall lawn care? Share them with us, we would love to hear from you!
So go enjoy the leaves – and the pumpkin spice lattes! – knowing that your lawn is in good hands.