A spider plant is a great houseplant for beginners. They are easy to care for, and they will reward you with their beautiful foliage. As a result of this post, I hope that you will be able to take good care of your spider plant and enjoy its lovely leaves in the years ahead!
This article talks about how to properly care for a spider plant. It goes into detail about water, light, humidity levels, and feeding – all things necessary when looking after an indoor plant!
First of all, where do spider plants come from?
The spider plant is native to South Africa, but it has been cultivated as a houseplant since the early 19th century. The bright green leaves of this hardy plant are long and smooth with creamy white markings that resemble spiders' legs. These unusual leaf patterns give rise to its common name: spider plant.
How much sun does a spider plant need?
A spider plant likes bright indirect sunlight, so it is best to place the pot near a window that receives morning or late afternoon sun. However, an eastern-facing window may be too hot for your spider plant during midday hours.
The amount of water needed varies depending on several factors:
How much light does the spider plant receive?
Is the pot in a dry environment?
How big is your spider plant?
All these factors can vary in how much water needs to be given. If you are unsure, it may help to set up a drip tray underneath the container. This will catch excess runoff and prevent overwatering from causing problems with root rot! The best rule of thumb is that the soil should be moist but never over-watered.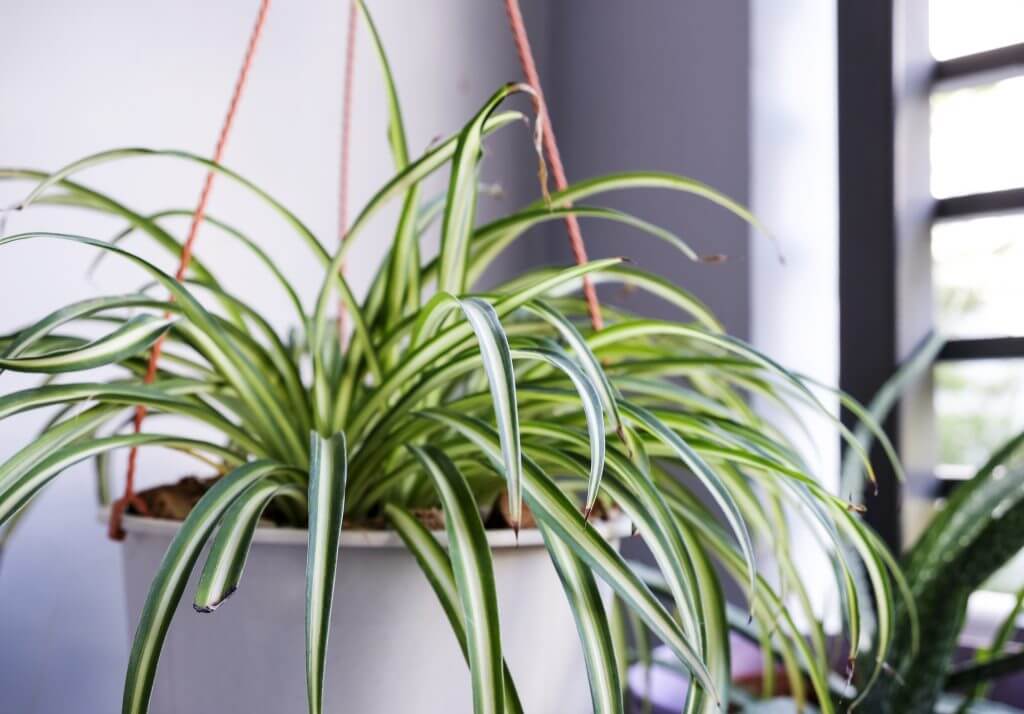 Can spider plants grow in low light?
Spider plants are considered to be low-light plants, meaning they can survive in lower light levels than other types of houseplants. However, spider plants do much better when given brighter indirect sunlight each day.
Does a spider plant need to be fed?
Yes! Spider plants are heavy feeders, and they will reward you with beautiful growth when given fertilizer on a regular basis. Feed your spider plant once every two months from early spring through fall using a balanced fertilizer (such as 20-20-20) at half the recommended strength. You may wish to do so more frequently when you see your plant's leaves yellowing, but this is not necessary!
This post talks about spider plants in-depth and goes into detail on how to care for them properly.
What humidity levels Spider plant require?
Spider plants prefer moderate humidity levels. If the relative humidity in your home is above 50%, you may not need to mist your spider plant, but if it falls below this level, a weekly spritzing with water will help keep it looking lush and beautiful!
Why do spider plant leaves turn brown?
If your spider plant leaves are turning brown, it may be because there is not enough humidity in the air. If this happens, try misting your spider plant with water to raise the relative humidity around it!
Is Spider plant an indoor or outdoor plant?
Spider plants are one of the best houseplants you can grow because they thrive indoors. They don't require much upkeep and provide lovely foliage in return! If your spider plant outgrows its pot or does not get enough light for adequate growth, it is easy to propagate new spider plants from cuttings – just remember that spider plants can get very large!
When to bring spider plants indoors?
Spider plants are not cold-hardy and cannot withstand frost. If you live in a temperate climate, bring your spider plant indoors before the first fall frost (or after the last spring freeze). We recommend bringing them inside around mid-September because this is when they will start to grow new leaves for wintertime!
How many spider plants should I plant per pot?
Spider plants do well when planted in groups of three or five because this ensures that each spider plant has adequate space to grow. If you are planting fewer than five spider plants, group them together with other houseplants for a beautiful display!
What eats my spider plants?
There are very few pests that eat spider plants. Aphids and whiteflies occasionally feed on the leaves, but otherwise, most insects ignore this beautiful houseplant!
some reasons why spider plants are dying?
If your spider plant is dying, Go over each one of the needs listed above and make sure that you meet it, maybe you will be able to save your plant this way and enjoy its beauty again.
Is there anything else that you wonder about when caring for a spider plant?
Please let us know what you think in the comments section! We love hearing from our readers.