Do you want to plant rice but don't know which type of rice will grow best in your area? You're in luck! In this blog post, we will discuss the best rice for planting and how to choose the right variety for your climate. We'll also provide a few tips on how to care for your rice plants once they are established. So, whether you're a first-time rice farmer or just looking to expand your crop portfolio, read on for all you need to know about planting rice!
When Thinking About Best Rice for Planting Consider Short-grain Versus Long-grain
When it comes to rice farming, there are two main types of rice: short-grain and long-grain. Short-grain rice is typically plumper and stickier than long-grain rice, making it ideal for dishes like sushi and risotto. Some examples of short grain rice include Arborio rice and Calrose rice. Long-grain rice, on the other hand, is less sticky and more fluffy, making it better suited for dishes like rice pilafs and rice salads. Examples of long rice are Basmati rice and Jasmine rice.
The type of rice you choose to plant will largely be determined by the climate in your area. If you live in an arid climate, long-grain rice is a better option as it requires less water to grow. Short-grain rice, on the other hand, is better suited for wetter climates as it can tolerate more moisture.
When choosing a rice variety to plant, it's also important to consider the length of your growing season. If you live in an area with a long growing season, you can plant either short-grain or long-grain rice. However, if you live in an area with a shorter growing season, it's best to stick with long-grain rice as it has a longer maturity time.
So, which type of rice is best for planting? The answer may surprise you – it depends on your climate! In general, long-grain rice is better suited for warm climates, while short-grain rice does better in cooler climates. However, there are some varieties of each type of rice that are more tolerant of different climates, so it's important to do your research before planting.
If you're not sure what type of rice will grow best in your area, the best way to find out is to talk to your local extension office or rice farmer. They will be able to tell you which varieties are most successful in your climate and can offer other helpful tips for rice farming in your area.
Now that you know a little bit more about the best rice for planting, it's time to start thinking about how to care for your rice plants once they are established. Here are a few tips: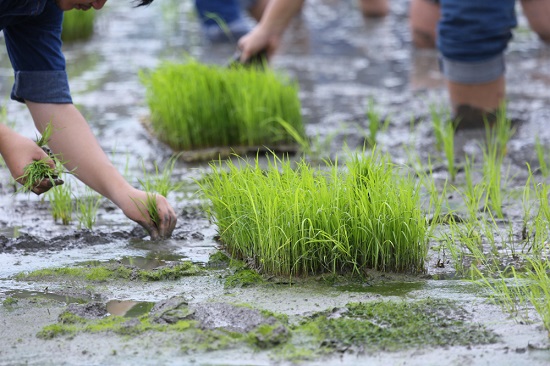 Rice for Planting: Tips
ever wondered how rice is grown? well, it's simple to grow rice; getting it to produce throughout the season is tough. You'll require at least 40 days of temperatures in excess of 21 degrees Celsius or 70 degrees Fahrenheit for your rice crop to develop normally.
Watering:
Rice plants require minimal upkeep. It's critical to maintain the water level at 5 centimeters or 2 inches or so above the dirt at all times. When the rice plants are 12.5-15 centimeters or 5-6 inches tall, add 10 centimeters or 4 inches more water. After that, Allow the water level to decrease on its own over a period of time after soaking. The plants should no longer be in standing water by the time you harvest them.
Harvesting Your Rice Crop
Rice typically matures over the course of four months. The stalks will turn gold in color to signal that it's time to harvest. Harvesting rice entails cutting and collecting the panicles that are attached to the stalks. To harvest your rice, cut the stalks and allow them to dry out in a warm place for two to three weeks. They can be wrapped in a newspaper during this process.
Roast the dried rice stalks in a low heat oven under 93 degrees Celsius or 200 Fahrenheit for an hour, then remove the hulls by hand. And that's it!
We hope this blog post has been helpful in deciding what best rice for planting in your area. Remember, the best rice for planting is the type that will grow best in your climate and soil conditions. With a little planning and preparation, you can successfully grow rice in just about any part of the world! If you have any questions or would like to share your rice-growing experiences, please leave a comment below. We'd love to hear from you!