Solomon's seal is a versatile plant that can be found in both gardens and landscapes. It is easy to care for, but there are a few things you should know in order to keep your Solomon's seal healthy and looking its best. In this guide, we will discuss everything you need to know about caring for Solomon's seal, from planting and pruning to watering and then to pests and diseases and other essential information. Keep reading to learn all about this wonderful plant!
Background Information About the Solomon's Seal Plant
The Solomon's seal plant is a perennial that is native to North America. It gets its name from the unique shape of its leaves, which resemble the seals that were used to make impressions in ancient times. The plant grows best in shady areas and prefers moist soil. It can reach up to two feet tall and produces small, white flowers in the springtime. The flowers are followed by berries that turn black when they ripen.
The Solomon's Seal plant has many benefits and uses. The roots can be used to make a tea that is said to have medicinal properties like soothing sore throats and reducing inflammation. Solomon's seal is used to treat lung problems, swelling (inflammation), and skin diseases including bruises, boils, and hemorrhoids. There isn't any reliable evidence to suggest that it works. However, the plant is also a popular choice for gardens and landscapes because it is easy to care for and provides visual interest with its variegated leaves.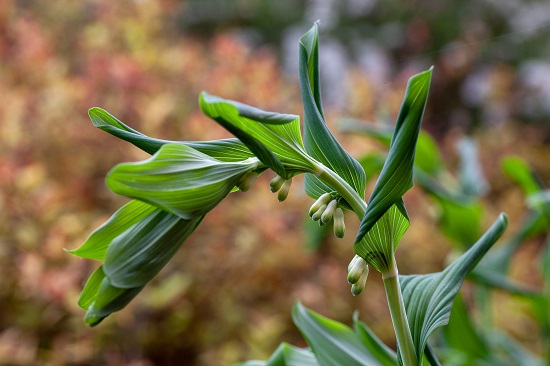 When Should You Plant It?
Solomon's seal can be planted in either the spring or fall. If you live in an area with a mild climate, you can plant Solomon's seal any time of year. If you live in an area with a cold climate, it's best to plant in the spring so that the plant has time to establish itself before winter sets in.
Where to Plant Solomon's Seal
As we mentioned earlier, Solomon's seal grows best in shady areas. It can tolerate some sun, but too much direct sunlight will scorch the leaves. When choosing a spot to plant Solomon's seal, make sure that it is in an area that doesn't get too much sun or too much shade. An area with dappled sunlight would be ideal.
How to Plant It?
This plant can be propagated by division or by seed. If you are propagation by division, the best time to do it is in the spring. Simply dig up a section of the plant that has multiple stems and replant it in another location. If you are starting from seed, sow the seeds in a peat pot in late winter or early spring. Keep the pot in a cool, dark place until the seeds germinate, which can take up to six weeks. Once the seedlings have sprouted, transplant them into individual pots and then plant them in their permanent location when they are big enough.
Pruning
Solomon's seal does not require much pruning, but you can trim it back in the spring if you want to control its size or shape. It's also a good idea to remove any dead or damaged leaves or stems. To do this, simply cut them back to the ground with a sharp pair of shears.
Watering
Solomon's seal does not require a lot of water, but it does need to be kept moist. Water the plant deeply and then allow the soil to dry out somewhat before watering again. This plant is tolerant of drought, so you don't need to worry about watering it too much. However, if the leaves start to wilt, that is a sign that the plant is thirsty and needs more water.
Fertilizing
Solomon's seal does not need to be fertilized, but you can give it a light feeding in the spring with an all-purpose fertilizer if you want to. Simply apply the fertilizer according to the package directions and then water it well.
Common Problems
Solomon's seal is a relatively trouble-free plant, but there are a few problems that you might encounter. These include powdery mildew, leaf spots, and rust. These problems are usually caused by too much moisture or not enough air circulation. To prevent these problems, make sure to plant it in an area that has good air circulation and do not water the leaves of the plant. If you do get powdery mildew or leaf spots, you can treat them with a fungicide.
Is Solomon's Seal Poisonous?
The entire adult plant, especially the berries, is toxic and should not be consumed, with the exception of the root and young shoots. If eaten, the berries might result in vomiting and nausea, while the leaves can make you sick if chewed. If you suspect that your child or pet has eaten Solomon's seal, call your veterinarian or poison control center immediately.
solomon's seal is a versatile plant that is easy to care for. With its pretty flowers and variegated leaves, it's a great addition to any garden. And because it's so easy to take care of, it's a good choice for beginner gardeners. So if you're looking for a plant that is both beautiful and low-maintenance, This plant is a perfect choice! If you have any questions about caring for your plant, feel free to ask us anytime. And be sure to check out our other gardening articles for more tips and advice. Thanks for reading!